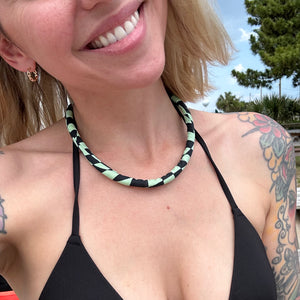 What happened? Where am I? What's time is it? What day is it?? All good questions.
The Late Night necklace makes me want strobe lights and a whisky sour and hugs from all my best friends. 
All that fine print:
Cotton handmade neon green & black distorted checkerboard necklace with a bronze alloy clasp.

These babies are handmade so there are slight variations between each necklace. 

Approximately 19 inches long & 6mm-ish around. Unisex design.

Limit contact with chemicals, water, and oils to keep your jewelry in tip top shape. Remove before swimming, showering, working out, and applying lotion or perfume.
Spot clean only.