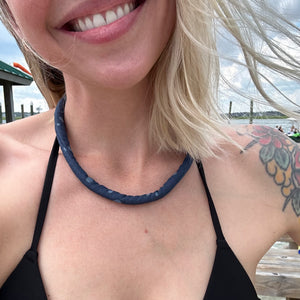 I've never met a bubble that wasn't looking for trouble. And this necklace is covered in them!! Oooh boy.
All that fine print:
Cotton handmade navy & blue necklace with a bronze alloy clasp.

These babies are handmade so there are slight variations between each necklace. 

Approximately 19 inches long & 6mm-ish around. Unisex design.

Limit contact with chemicals, water, and oils to keep your jewelry in tip top shape. Remove before swimming, showering, working out, and applying lotion or perfume.
Spot clean only.